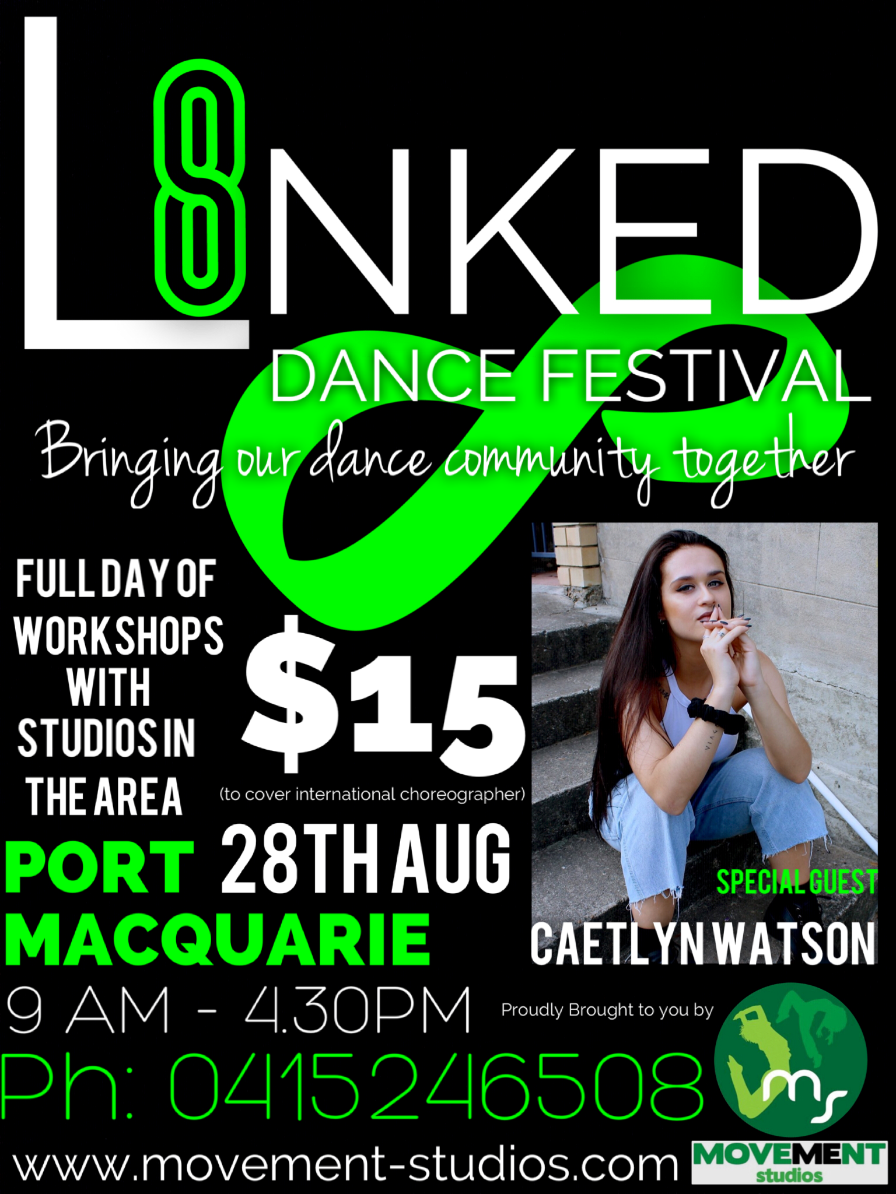 WHAT IS LINKED DANCE FESTIVAL ?
LINKED is all about creating unity within our dance community, giving dancers of our region the opportunity to learn from all the talented teachers we have here without the cost of travel all the time.
LINKED not only brings us all together to enjoy, and celebrate dance. It creates an opportunity for students to expand their skills base. It has the added bonus of teachers being able to do classes with their students !
OUR SPECIAL GUEST !
As an added bonus we have secured international choreographer/dancer Caetlyn Watson for a special workshop!
An opportunity not to be missed and a chance to talk to another active professional within our industry.
WHAT DOES "L I N K E D" STAND FOR ?
Local Integration Networking for Kids Education in Dance
FAQ
WHAT DOES IT COSTS ?
The costs is $15 for the day.
CAN PARENTS COME TO ACCOMPANY THEIR CHILDREN ?
Yes, parents should come and be responsible for children. (if needed due to age)
DO WE NEED INSURANCE ?
No, our insurance covers the event, however all students/parents will be expected to sign a waiver upon entrance.
WHEN AND WHERE DO WE REGISTER FOR THE EVENT ?
You can register for the event via our website below
WHEN DO WE PAY FOR THE EVENT ?
Payment will be made upon registration on the day.
WHAT DO I NEED ?
Enough food and water for a whole days dancing – there will be no food facilities at the venue.
Register for "LINKED" HERE
Can you help our campaign ??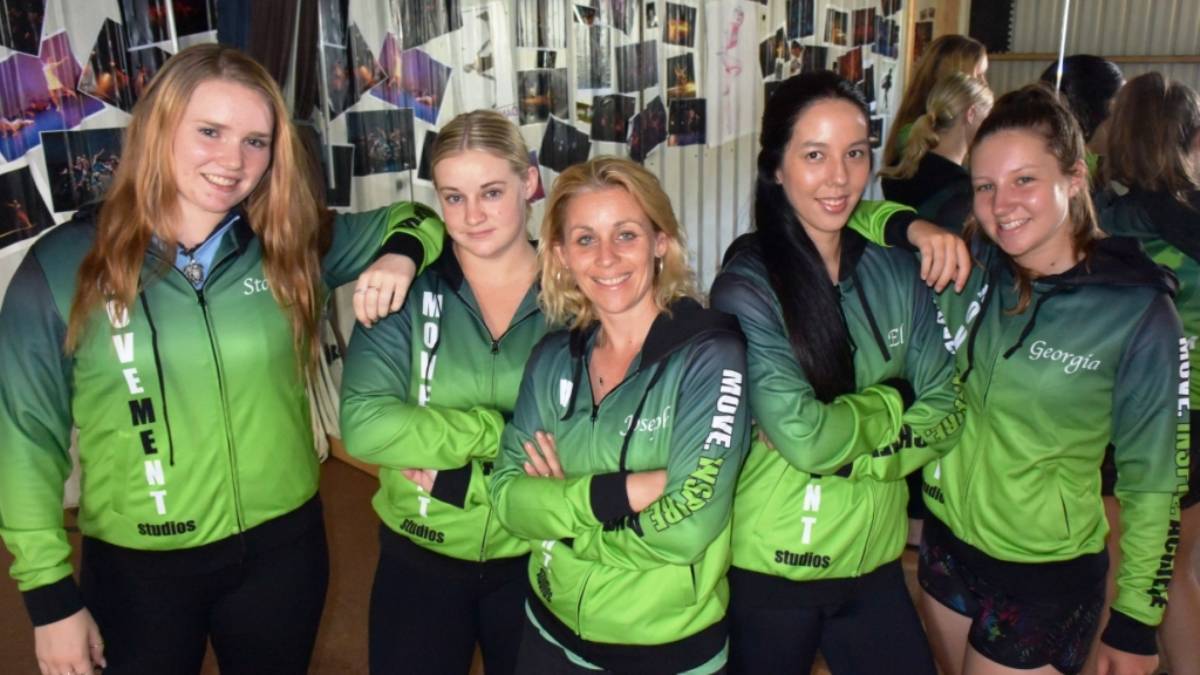 WHO ARE WE ?
Dancers from a rural NSW dance school - MOVEMENT STUDIOS, have been selected to perform one of their outstanding choreographic works in the up and coming VDF - Victorian Dance Festival.
Their dreams of attending both workshops and performing in the gala event can not be realised without your help and support !!
They are calling on the communities help to get them to Warrnambool Victoria from Laurieton NSW where they plan to wow the victorian dance festivals crowd.
WHO ARE WE RASING MONEY FOR ?
We are raising enough money for 10 of us to travel round trip to Warrnambool,(via air and land) accommodation for 3 days,costumes and makeup,food and tickets to the festivals workshops for 2 days !!
HOW SOON DO WE NEED THE FUNDS ?
YESTERDAY !! :)
We are due to arrive on the 13th of April.
WHY THIS MEANS SO MUCH TO US ?
It's incredibly exciting to be able to take the girls on what amounts to their first tour," said studio 'boss' Jo Rowan. To have our hip hop choreography selected for the Victorian Dance Festival is amazing.
14-year-old Georgia Smith says she is 'pumped' to show people what a small dance studio from rural NSW can produce.
15-year-old Storm Davidson can see the longer term benefits of participating in the festival.
"I see it as an opportunity to learn and to grow within the dance industry," she said.
20-year-old Alison Walker is keen to showcase the group's choreography.
"It's great to be able to dance in another state; this could be the first step towards even more exciting things in dance."
Likewise Ellen Rimmer is excited to perform in front of some of her dance idols.
All in all its a bucket list tick for a group of super hard working dancers that deserve to be recongized for all their hard work and dedication.
HOW THANKFUL WILL WE BE ?
There are no words that can adequately describe how thankful we will be for all and any donations, you will be making the dreams of 10 dancers come true, and promoting the philosophy that if you dedicate and focus yourself to work towards a goal you can most certainly achieve it , with a little help from your friends x
TINY TUMBLERS - Acro classes for pre schoolers.

Roll, jump, stretch, run !! All the things that kids LOVE to do. Help the development of your child's body, gross motor skills and co-ordination with Tiny Tumblers Classes. We are running 2 classes Term 1 2016 @ our Laurieton Studios.
11.00am - 11.30am Tuesdays, 3.00pm -3.30pm Thursdays - Classes are $10 and have limited numbers, bookings are essential.
Looking for more preschooler classes ?
Register your child for Tiny Tumblers
AASCF - CHEER CLASSES STARTING TERM 1 !!!
YES !! We are now taking places for our cheer classes staring term 1 We will have classes running twice a week in our Laurieton Studio's
To register your fill out from below !
Register for Cheer classes
Slice of Haven 2015 !!
Amazing mega photo album and story from the Camden Haven Courier ! Check out the great rap up on our Slice of Haven performance and a sneak peak photo of our 65rs Group !
Click the link below to check it out
"AD MOVES" - Adult ONLY dance classes
ADULT LEARNING @ MOVEMENT STUDIOS TERM 2 !!!
We have had many inquires about adult classes of all styles of dance and stretching etc. We are now running an adult learning class on Tuesdays @ 6.10 - 7.00pm this class will run in 5 week blocks (2 blocks for Term 2) each block offering a different style of Dance,Pilates or strengthening work. You Must be over 18 to join this group and you must commit/ to 5 week block in advance. This is a great way to stay fit, lose weight tone and shape,try something new, learn tools to apply to your body, meet new people and have a blast whilst doing it ! Jo will be running these classes so be prepared to WORK !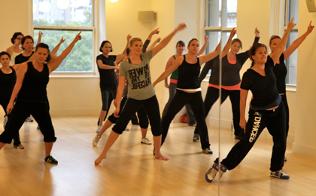 -"65rs" - Hip Hop Dancing classes for Seniors -
***** NEW FOR TERM 2******
Men and Women interested in having fun, keeping active, socialising and helping in preventing dementia.
WHERE ... Movement Studios Laurieton, 4 Bayside circuit Laurieton.
WHEN ..... Every Tuesday 10am
WHAT ... comfortable clothing and joggers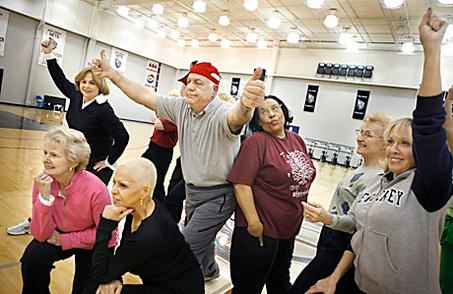 Register here for more info !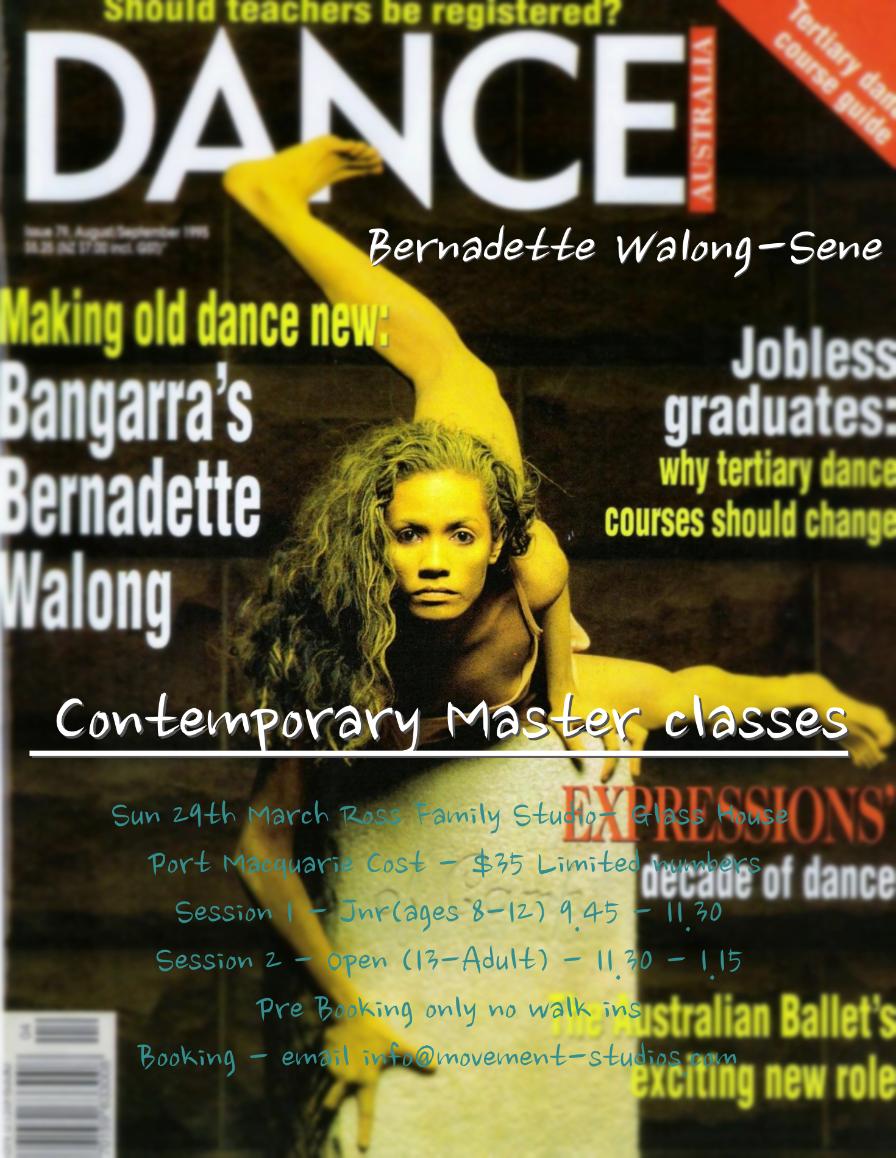 About Bernadette
A highly accredited choreographer, who spans a long and successful career as a performer and choreographer both in Australia and over seas. Bernadette was the former assistant artistic director, choreographer and dancer for Sydney's own Bangarra Dance Theatre. Through her career she has been commissioned to do works for Australian Ballet, ADT (Australian Dance Theatre), Dance North, Flying Fruit Fly Circus, Australian Youth Orchestra. has been choreographer-in-residence nationally and in Scotland, Cuba, Vietnam, China, Taiwan, India, New Caledonia, Fiji & Samoa. She has also created numerous short works for the Sydney and national independent scene, for commercial, corporate and tertiary institutions including NAISDA and the UWS.
She has judged the NSW State and Australian National Finals of the Rock Eisteddfod Challenge for high schools. She has performed in remote, regional, and capital Australia and in China, Vietnam, Japan, India, the Pacific, Germany, Amsterdam, Luxembourg, Switzerland, and Israel. Bernadette has enormous experience in inter-cultural relations, she has worked in dance and education with people from diverse cultural, economic and social backgrounds (ESB and NESB), professional and amateur dancers, actors, students, disabled and the general community (children through to the elderly).
FOLLOW THE STEPS BELOW TO BOOK FOR THESE AMAZING MASTER CLASSES
REGISTER YOUR PLACE BELOW , FILL IN THE BLANKS AND PROCESSING IS IN MOTION !
There is nothing more exciting than taking a workshop with your idol, just being in the same room let alone dancing with them is a life changing event !! Movement loves to be able to provide students and members of the public workshops and performance opportunities in various areas of performing arts. Maintaining strong industry ties with current choreographers/ instructors both in Australia and overseas ensures all Movements students enjoy the very best and up to date experiences and training and exposure to the many possibilities that might come with a career in dance and other art forms.
Australian Dance Festival